Las Vegas VIP Luxury Golf Experience

Luxury Golf Escapes invites you to experience the Sin City as a VIP while golfing the best desert golf courses Las Vegas has to offer. Gather a group of your closest friends and come party Las Vegas style. It will be difficult to keep this luxury golf vacation a secret, but what happens in Vegas, stays in Vegas!
You and your rock star guests will enjoy 5 nights of luxury accommodation at Bellagio Resort in a Luxury Villa complete with your own pool and jacuzzi among other movie star amenities. Enjoy all the luxurious amenities the Bellagio has to offer or simply relax with your friends in the surreal surroundings.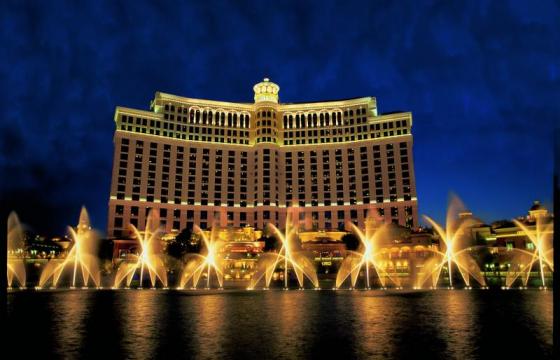 Did we mention golf? While living like movies stars in Sin City you will also enjoy 4 rounds of championship golf on 4 of the best courses in Las Vegas including the PGA rated TPC Las Vegas, Bear's Best, and the prestigious and private Shadow Creek Golf Club complete with full limo transportation to and from the course.
Off the course, let Vegas work its seductive charms on you. From great theatre acts, star studded shows and entertainment that only you can imagine, Vegas offers something for everyone. With exclusive access to some of Las Vegas' hottest clubs, you'll appreciate the Las Vegas travel code: "What happens in Vegas, stays in Vegas…"

Your Las Vegas VIP Gentlemen's Luxury Golf Tour Highlights / Inclusions:

Private Jet Transportation to and from Las Vegas and your starting destination. Not included in original pricing but can be added in for a truly VIP experience.

5 Nights accommodations in a luxury Suite at the 5 star Bellagio Hotel. The Villas at Bellagio offer a rarefied experience for guests who are accustomed to the finest things in life. Privacy is paramount within these nine lavish estates adorned in classic European design. Each 6,500-square-foot, two-bedroom/five-bathroom Villas and 8,000-square-foot, three-bedroom/seven-bathroom Villas features:

in-suite workout facility
massage room
dry sauna
private hair salon
private kitchen
formal dining room
full bar stocked with guests' favorite beverages
dual fireplace
gorgeous private terrace and garden with a pool and whirlpool


4 Rounds of golf at top courses in Vegas including the private Shadow Creek Golf Club - where the movie stars and sports celebrities play.

Private Limo transfers throughout (From Airport to Hotel and from Hotel to Golf Courses). Optional luxury sports car rentals to replace limo transfers.
Luxury 5 Night Tour Itinerary:
Day 1: Arrive Las Vegas - Limo transfer to the Bellagio Hotel. Check into luxury villa for 5 nights.
Day 2: Golf TPC Las Vegas. Enjoy Vegas to the max and stay out of trouble.
Day 3: Golf Bear's Best GC. The world is your oyster!
Day 4: Golf Bali Hai GC. Its Vegas.... too much to list...
Day 5: Golf Shadow Creek GC.. Enjoy your last night
Day 6: Transfer to Airport to catch flight home. You survived!
Golf Courses Included:

TPC Las Vegas

Bears Best GC

Bali Hai GC

Shadow Creek Golf Club
Reserve This Luxury VIP Vegas Golf Vacation Now!

$2580.00 per person Bellagio Resort Room double occupancy

$5250.00 per person luxury suite at Bellagio double occupancy

$9480.00 per person luxury fountainview penthouse suite double occupancy
* All vacations can be fully customized to include additional nights and/or golf rounds on all the top courses. Transportation not included but can be arranged (Self Drive, Limo transfers). Additional luxury sports car rentals for add on fee.
**Packages can be single or double occupancy.
***For information on private jet charters as well as exotic car or Limo rentals please contact us using our special VIP request form.
Contact us now or call us direct to book the perfect luxury golf vacation getaway!