Top 5 Mexico Resorts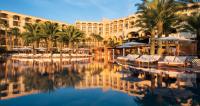 Discover a new definition of luxury and service at the finest of Los Cabos, Mexico hotels - the Hilton Los Cabos Beach and Golf Resort. Treat your Mexico travel with the opulence of a true Four Diamond hotel. From world-class amenities to palatial guestrooms to unrivaled fine dining options, Cabo San Lucas, Mexico vacations have never been more decadent. Your ideal luxury golf resort located on 2 of Mexico's finest courses - Cabo Del Sol Desert and the #1 ranked Cabo Del Sol Ocean Course!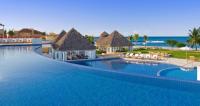 The St. Regis Punta Mita Resort is nestled in a captivating setting on one of the world's most alluring beaches on the Pacific coast of Mexico. Surrounded by white sands, pristine waters and lush tropical flora, the resort's ambiance is as extraordinary as it is comfortable. This 5 star resort is also home to two World Class Golf Courses: Christened "Pacifico" and "Bahia," Punta Mita's two Jack Nicklaus Signature Golf Courses. Each course embraces the natural beauty of the region, from towering palms to oceanside panoramas to create an extraordinary experience.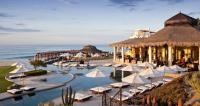 Las Ventanas al Paraíso, A Rosewood Resort, is a window to Paradise. A Ty Warner Property and one of the most acclaimed resorts ever, Las Ventanas has redefined luxury and pampering, reaching out with special touches that are the hallmark of refined hospitality. The desert beach hideaway in Los Cabos captivates guests with expansive suites, inspired cuisine and The Spa & Salon at Las Ventanas, the resort's recently unveiled sanctuary of renewal and revitalization. Stay at the best resort in Mexico and play the #1 course in Mexico - Cabo Del Sol Ocean.