Top 5 canada Packages
Canada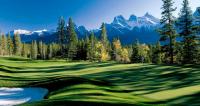 The majestic Canadian Rockies are the backdrop to some of the most scenic golf courses that run among the towering peaks, striking vistas, sparkling lakes and abundant wildlife of Canada's Western province. Banff, Jasper, Canmore and Kananaskis Country are situated in one of the world's most stunning mountainous regions in Alberta, offering the world's most breathtaking and unique golf courses.
Many of these top course take advantage of the foothills and shear peaks have been recognized by manu of Golf's exclusive magazines for the play and the scenery to match. The Fairmont Banff Springs and The Fairmont Jasper Park Lodge are always noted for their stature as the go-to natural setting for a variety of both. Complimenting the Rockies, take a ride and play in other more modern designs such as at Kananaskis Country Golf Course, Silvertip Resort and Stewart Creek Golf & Country Club. Spectacular views await you at every hole, and shots are rewarded with a sighting of resident wildlife, such as elk, moose or bears that roam about. Golf in the Canadian Rockies is like nothing else. As a golfer, this is a place you must experience!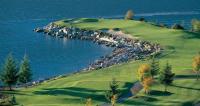 The Westcoast's spectacular setting provides the venue for a vast array of outdoor adventures none of which more popular than the game of golf. At many times of the year you can ski in the morning, andin the afternopn go golfing or go sailing. Canada's Westcoast includes one of the most beautiful cities in the world, Vancouver, one of the top island destinations, Vancouver Island, with its charming capital city Victoria, and one of the countries best mountain resort area in the world in Whistler. All three of these destination are favored with unparalled mountain and coastal scenery, along with some of the country's best golf courses.
There is truly something for everyone here on the Westcoast. Whether you are in it solely for the golf, or if you wanted to combine golf with one of the other outdoor activies such as deep sea salmon fishing, hiking, wildlife viewing, mountain biking, glacier skiing, - the list goes on - Canada's Westcoast is a must for your next golf vacation, rivaling as the golf experience of a lifetime!